(This post will be pinned at the top for a while. Please scroll down for recent posts)
It is with great sadness that I send this message. A dear friend and fellow Northwest Indiana Patriot has passed away. Bonnie Kuzminski was a dedicated mother, wife and patriot who was tireless in her pursuit of freedoms for all of America. She would spend days and nights researching bills, writing news briefs, traveling to protest locations days before an event so as to give the best directions for the rest of us, she donated her time, her resources so that as many people as possible could stay informed on the issues affecting our lives. Although she worked from the background, she was the driving force moving all things forward.
Bonnie was a brilliant writer with a quiet nature combined with a dry sense of humor. Much of this wonderful woman could be seen just below the surface.
Bonnie, my dear friend, we will miss you so very much. I know you are never far, for your new position will guide us from above.
In Memoriam
(From the NWIP website:  http://nwipatriots.com/blog/2009/12/27/in-memoriam/)
The Northwest Indiana Patriots have lost a loved and valuable member of our family.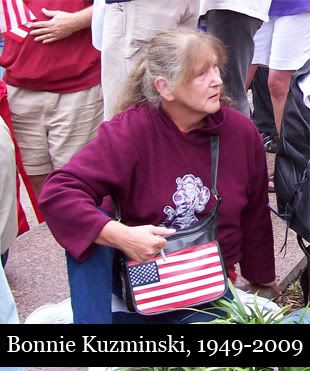 Bonnie Jean Kuzminski was a loving, faithful wife and devoted mother. For the past year, she served as the volunteer secretary for the Northwest Indiana Patriots. Bonnie passed away December 23, 2009, at the age of 60. She is survived by her husband, Gary, son and daughter, Steven and Kimberley, and grandchildren, Christian and Nicholas.
Bonnie was the motor driving the NWIPs. She authored every post on this blog, and wrote or co-wrote every email blast and newsletter ever sent out by the NWIPs. She helped organize, set up and run our events. She opened her home for an NWIP yard sale. Bonnie did all this – while receiving zero compensation – because she believed in the principles of limited government and fiscal and individual responsibility. She did all she could to help preserve liberty for her fellow citizens.
Bonnie recently related the story of how she came to be associated with the NWIPs. Like many of us, she was frustrated with the political direction of our nation. Also like many of us, she felt alone in her frustration, seeing no outlet or opportunity to have an effect. Then the Tea Party movement began, and news came of a Tax Day Tea Party in Valparaiso. Bonnie and Gary went, excited at the possibilities, but unsure of what would come of it. Would anyone show up? Would it just be 5 people gathered to say goodbye to our founding principles?
Bonnie found herself surrounded by hundreds of like-minded Patriots. People who felt just as she did. People who shared her frustrations and hungered to make a difference. And she was confronted with something new and exciting – opportunity. Bonnie seized that opportunity and never let go. She found a second home in the Patriots, and she was very proud to stand with all of you. She was so dedicated that she continued to post and email right up until the very week of her passing. Her example is an inspiration.
As we mourn Bonnie's death, we must celebrate her successes. The NWIPs and the Tea Party movement have grown beyond what she initially thought possible. Locally, Bonnie was on the streets every day in the runup to the November referendum on the RTA, raising awareness and getting people to register and vote. The people of Porter County responded with a resounding 4-to-1 rejection of the RTA.
Nationally, the Tea Party movement halted the rush to pass a federal takeover of healthcare, though there is still much to do on that front. Another economy killer, Cap & Trade, has stalled. She marched in Washington, D.C. on 9/12. The political landscape of our nation has changed greatly this past year, and Bonnie was very much a part of that.
Bonnie's greatest successes, though, were with her family. She was utterly devoted and always faithful to her husband, Gary. She provided the example for her daughter to raise a beautiful family of her own. She sustained her son, Steven, through an accident that left him with paralysis, giving him the strength, knowledge and support he would often need but never lack, thanks to her.
We love you, Bonnie. You will be sorely missed. We will honor you by continuing your fight.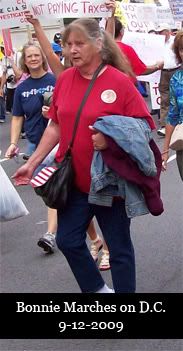 Bonnie Kuzminski
July 14, 1949 – December 23, 2009
Related posts: