One of my stops along the way was a visit to the war memorials. The video clip below is from the World War II Memorial. Each memorial has to be seen in order to truly be felt.  Something gets inside of you and produces a deep sense of what a warrior is, what a patriot is when you realize the ordinary Americans who gave up their places on this earth to defend our freedoms. They sacrificed their lives so that you and I could march, say what is on our mind, write politicians, have freedom of speech, protest, demonstrate and have the means to leave our home towns and travel without impediment.
It says much about what I believe about the spirit of the march.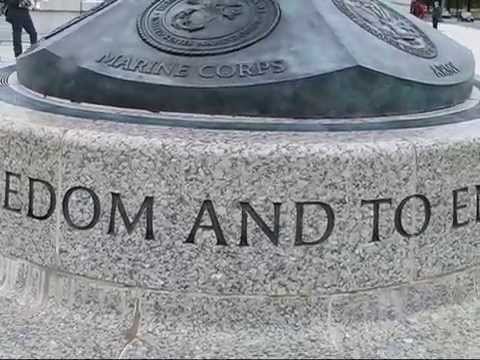 This is what the street normally looks like, at Pennsylvania and 13th, Freedom Plaza.
We left the hotel with plenty of time to reach Freedom Plaza, the jumping off point for the march.
Our hotel was booked, not a room was in sight and people began leaving for the march at 7am. We caught a shuttle to the train station and found more people beginning to assemble. A long line was in front of the automated machines that dispense subway tickets.  More people were waiting at the station platform. It was 9am on a Saturday and the joint was getting busy. People were everywhere, carrying signs, chairs, coolers and a pocketful of anticipation. The energy in the air was electric.
We were boarding at the beginning of the subway line.  There was only one station stop for the subway before it got to our station. When the train pulled up it was packed.  A roar and a cheer went up from the station platform. We waved, yelled, shouted 'Alright!' and 'YEAH!' to the passengers on the train. Now who does that? Who cheers a full train, knowing that there is no room for you and you applaud having no seat on that ride?  Patriots do that. We were all in this together and just to see so many people was uplifting. Waiting for another train meant nothing to us. We were willing to wait, knowing that we were all on a mission.
We arrive in downtown DC and never had to look at a map, the crowd flowed towards Freedom Plaza. We rounded the corner and this was the view looking down to 13th and Penn street.  The once normal traffic was gone and replaced with this:
And this was at 10:15AM. People non-stop, streaming into Freedom Plaza. For all we knew, we were headed to find the Indiana State flag and assemble under our State flag. Little did we know that people had filled Freedom Plaza and the police directed the organizers to clear out people, there was no room for more people at the Plaza. So, the march that was to start at 11:30AM actually began at 10AM. People were marching, just going with the flow. Word was passed around that the march had started because there were so many people.
We had a rendezvous with some women bloggers who had flown in from all parts of the country and we began our march, some holding signs, some filming, some waving flags and everyone taking pictures.
I will post more photos and share more of my trip soon. We will be on the road tomorrow, headed home after spending and extra day in DC to take on more of the city.
Oh, and Axelrod, with your comment about the march, you know this one, "I don't think it's indicative of the nation's mood," Axelrod said on CBS' "Face the Nation." "You know, I don't think we ought to be distracted by that. My message to them is, they're wrong."  Screw you. FFS.
Related posts: